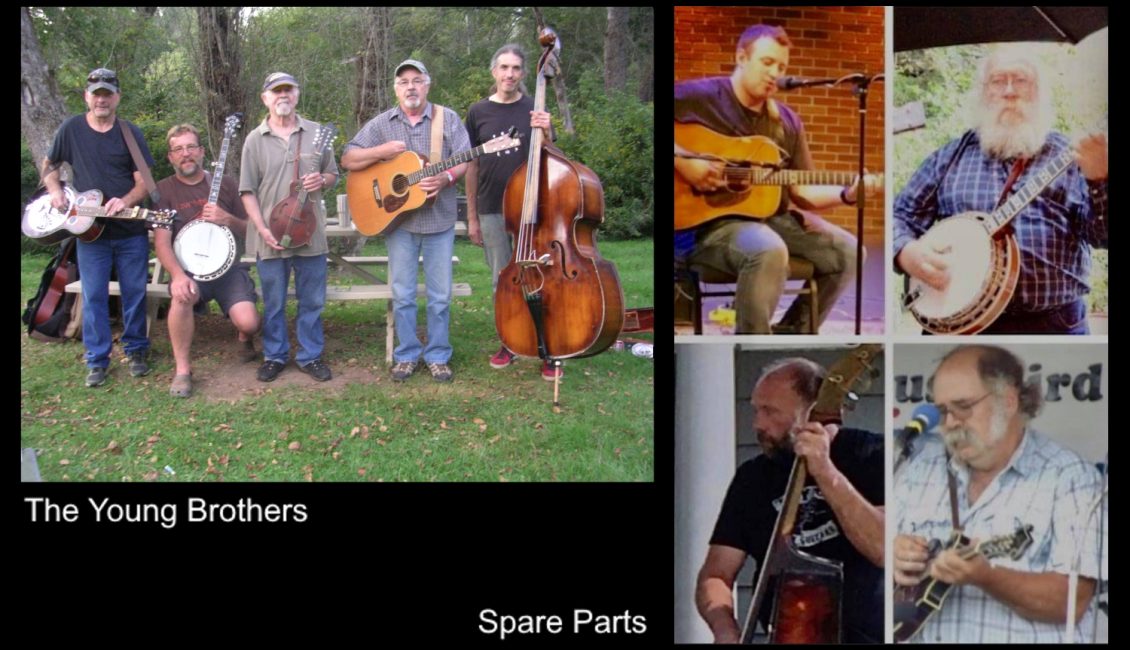 The Young Brothers performing at 6pm followed by Spare Parts
The Young Brothers
Growing up in Maryland near DC in the 1950s, The Young Brothers heard country music and bluegrass played side by side on the radio, and saw it performed that way on Jimmy Dean's "Town and Country Jamboree" television show. Later favorites, such as The Dillard's and the Desert Rose Band, played country infused with a bluegrass style which was to be a prime influence on the sound of The Young Brothers. They play traditional and original songs and tunes.
The current lineup of the band includes:
Tim Young – guitar & vocals
Paul Young – mandolin & vocals
Bobby Jenkins – dobro & vocals
Ron Huber – banjo & vocals
Bob Wilson or Kenny Huber – bass
Spare Parts
Spare Parts is a traditional bluegrass band, formed over 30 years ago by New York State bluegrass legend, Gene Clayton. After Clayton's passing in 2017, the guys in his band decided to continue to carry on his legacy, playing traditional bluegrass under the Spare Parts name.
Josh Sudigala, guitar/vocals – Josh is a young master guitarist/singer/songwriter. He is one half of the bluegrass duo Cavage and Sudigala and has also played with The Hickory Project. His blazing solos and rock-solid rhythm are sure to delight. With roots in traditional bluegrass and a vision to the new bluegrass movement, Josh is surely a guitarist to watch!
Don Hardic, mandolin/vocals – Don is a long-time mandolin player and singer. His powerful voice, driving rhythm, and melodic solos, are a key to Spare Parts' traditional bluegrass sound. He spent the majority of his bluegrass career playing in churches and has enjoyed being Spare Parts' mandolin player for the last decade.
Bill Kerchner, banjo – Bill has played banjo and bluegrass music for over 40 years. With an ear to the traditional bluegrass, he is one of the best-known banjo players throughout eastern Pennsylvania. He played with the band Country Grass for many years, and his solid Scruggs-style banjo playing is sure to keep audiences everywhere entertained.
Tom Honeyford, bass – Tom started playing bass just a few years ago and, within that short time, has become one of the most solid bassists around. With his straight on, hard driving rhythm, Spare Parts relies on Tom to keep the band in time.