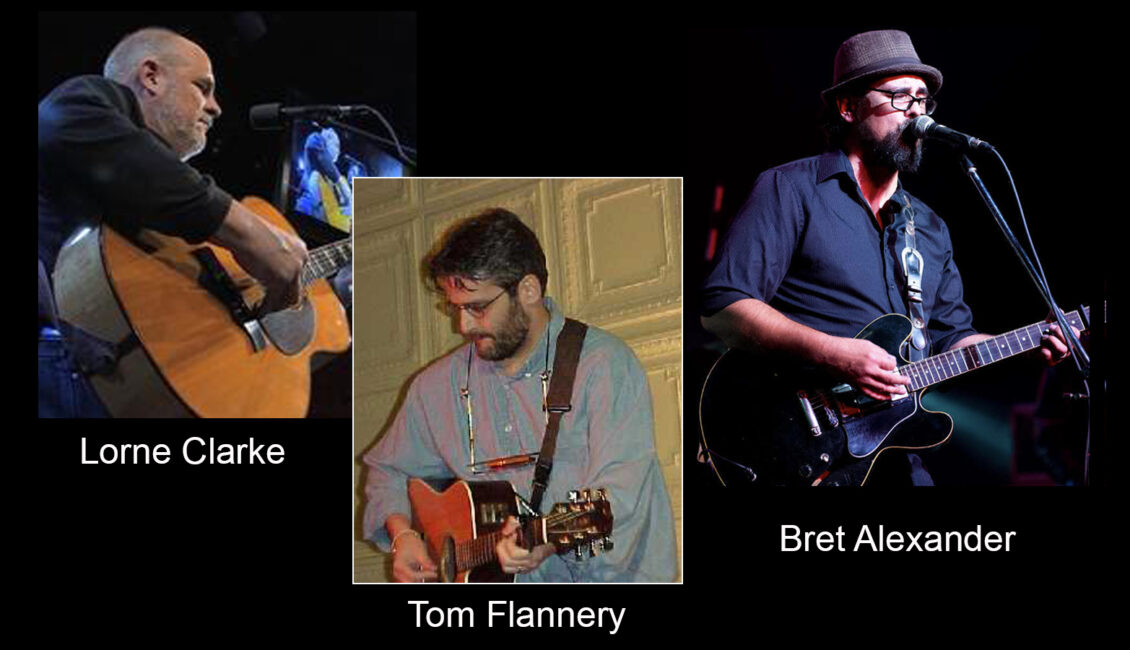 A Tribute to the Old Lynn Concert Series with Lorne Clarke, Tom Flannery, Bret Alexander
The Old Lynn Concert Series (courtesy of Rick Hiduk, Endless Mountains Lifestyles): For 19 years, fans of folk music and singer-songwriters headed to the former Lynn M.E. Church near Springville to enjoy live performances as part of the Old Lynn Concert Series. The music was presented free to the community, and guests often brought snacks and beverages to share. The final concert, featuring Lorne Clarke, Tom Flannery, and Bret Alexander was held there on May 25, 2019. That performance is highlighted in a new documentary called This Sacred Place: The Story of the Old Lynn Concerts.
Summer Sessions is very proud to bring Lorne, Tom, and Bret together again as an important tribute to Old Lynn's two decades of music and memories.
Lorne Clarke is a Canadian singer/songwriter who first began performing in the mid-1970s in the Toronto folk scene. For more than 30 years, he performed at festivals, clubs, house concerts, and theatres across Canada and the United States.
October 1999 marked the release of Lorne Clarke, his eponymously titled debut CD that featured a powerful collection of 14 original songs in a rich acoustic package. Clarke's second studio CD, Moonlight & Cider, was released in 2007, and his third CD, From My Window, debuted in 2015.
From 2000 to 2019, Clarke was the artistic director and promoter for the Old Lynn Concert Series in Lynn, Pennsylvania. This unique, free, concert series ran to packed houses and presented concerts by contemporary folk artists from all over the world.
lorneclarkemusic.com
Tom Flannery – A lifelong resident of the anthracite-coal region of Northeastern Pennsylvania and a descendant of Irish-famine refugees, singer/songwriter Tom Flannery developed an acute comprehension of his own and the region's often bitter and tragic coal mining heritage. But he also developed a journalistic eye for the minute details of quotidian life and a sympathetic understanding of the small-town psyche. Although he waited until well into his 20s to plunge into his musical muse, Flannery emerged in the late '90s as one of his generation's most astute and insightful observers of the human experience, and one of its most talented songwriters.
Together, Clarke and Flannery created the two theme-based song cycles, Rwanda Songs in 2004 and Hands in the Dark in 2006. These song cycles tackle difficult issues: genocide in Rwanda Songs and child sexual abuse crisis by Catholic clergy in Hands in the Dark. Also in 2006, the two composed and performed the soundtrack to the award-winning feature-length documentary film, Facing Sudan, directed and produced by Bruce David Janu of Chicago, Illinois. Clarke's song, How Do We Sleep At Night? is the opening theme song to the film. In 2008, Clarke contributed several songs to Crayons and Paper, a follow-up to Facing Sudan.
Bret Alexander is based in Northeastern Pennsylvania.  His career began as a studio engineer in the late '80s. Here he met the members of what would become the band The Badlees. 
The Badlees were signed to Polydor/A&M in 1995 with Bret playing the role of principal songwriter/guitarist/multi-instrumentalist. Their self-produced album, River Songs, yielded two hit singles: Fear of Falling and Angeline Is Coming Home in 1996.  
He has toured and shared the stage with Robert Plant and Jimmy Page, Bob Seger, The Band, The Allman Brothers, Edwin McCain, Live, The Gin Blossoms, and countless others. His work has been featured on The Winter Olympic Games, MTV, The Real World, Extra, The VMAs, and various films and TV shows.
Today, he continues to perform solo and with various full band configurations.
In 2020, Bret released a collaborative album with Tom Flannery entitled Downhill – an album written and recorded remotely during the COVID 19 pandemic.
Current projects include a compilation project of older material and a new solo record, plus a full producing schedule working with other independent artists.
Bret, along with his band The Badlees, were inducted into the Central Pennsylvania Music Hall Of Fame in July 2021. The Badlees released its latest, self-titled album in December 2022.
bretalexanderonline.com